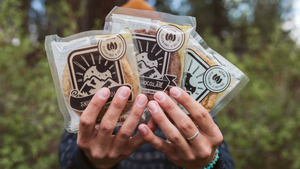 PNW Cookie Co. 101: All Your Burning Questions Answered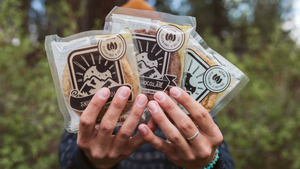 Today on the blog, we're diving in head first and answering some of the most frequently asked questions we receive here at PNW Cookie Co.! Let's get started… 
Answers to Your Most Frequently Asked Questions
Q. Are ALL of your products gluten-free, soy-free, dairy-free, and vegan?
Yes, 100%! After reinventing our family's cookie recipe after months of rigorous testing, we realized our cookies would be a game changer for those with food intolerances, restrictive diets, and those just wanting a healthier cookie option that didn't taste like diet food. So we set out on a journey to shift the paradigm of what a vegan, gluten-free, soy-free, and dairy-free cookie should taste like. 
Here's what you can expect to find with our products: 
Vegan

Gluten-free

Soy-free

Dairy-free 

100% preservative-free

Zero chemicals

Wholesome, locally sourced ingredients whenever possible

That oddly satisfying crumbly (but not dry!) texture

Unforgettable flavors

100% cookie monster approved!
Wait, what about the oats you use in your Oatmeal & Raisin Cookie... Are they gluten-free, too? Yes, while oats are gluten-free, many are cross contaminated in processing facilities that have gluten. However, all of the oats we use in our products are processed in a Certified Gluten-Free Facility!


Q. I looove your cookies. Do you have a rewards program I can join?
We thought you'd never ask! With our Cookie Monster Rewards program, you can give your friends a reward (and claim one for yourself!) when they make a purchase using your unique referral link. 
You can earn more Cookie Monster Points for different actions, and turn those Cookie Monster Points into awesome rewards! With more ways to unlock exciting perks, this is your all-access pass to exclusive rewards. Help spread the PNW Cookie Co. magic and sign up here! 


Q. How do you sweeten your cookies? 
We strive to use the cleanest ingredients possible and have opted to use organic evaporated cane juice rather than processed white sugar.
Organic evaporated cane juice is a completely natural sweetener made from sugar cane. Unlike other sugars, like common table sugar, evaporated cane juice isn't processed as much which allows it to hold more nutrients like calcium, and vitamins A and B from the sugar cane plant. The juice from the sugar cane is filtered, evaporated into a syrup, crystallized, and then cured. Any remaining liquid that's left over after the crystals have been removed and dried is known as molasses. Because evaporated cane juice undergoes less processing than white sugar, it's able to retain its naturally rich amber color.
While sugar is traditionally sourced from sugar beets and sugar cane, it's actually a gray area ingredient for many vegans. Many sugar refineries use charred animal bones — known as bone char — as part of the filtration process to help decolorize sugar and give it a stark white color. Yup, that's right: every year, millions of tons of cow bones (usually from countries like Africa, India, and the Middle East) are processed into bone char by being heated and refined to a powder-like substance which sugar manufacturers then use to whiten sugar. Therefore white sugar is usually not vegan. If there's one thing we've learned, it's that the integrity and source of the ingredients are not to be overlooked. That's why we specifically source our organic evaporated cane juice from companies that do not use bone char in their refinement process. It's how we keep up with the highest vegan standards! 
💡Fun Fact: Evaporated cane juice is also a common sweetener used in yogurts, snack bars, and (you guessed it)... Cookies!


Q. I hate running out of your cookies. 😫 Do you offer any type of subscription service?
You betcha! Never run out of cookies ever again with our Subscribe & Save (10%!) subscription option. When you sign up, your order is automatically delivered on the schedule that you set. There are ZERO obligations and you can modify or cancel your subscription any time right within your account. To get started, just change the purchase details from "One-Time Purchase" to "Subscribe & Save (10%)" and you're off to the races. 


Q. How big are your cookies?
We like big cookies and we cannot lie! If you ask us, our cookies are truly the perfect size, but to most other folks, they're HUGE! Each cookie we serve up is around 4.2 inches in diameter. One single cookie is so big that it can easily be split between two or three people (but we don't blame you for not wanting to share. 😏)
Q. Aside from your website, where else can I buy your cookies?
Our cookies + baked goods are popping up in new locations all the time! You'll be surprised to see the list of all of the different places where you can find us. Head over to our Where to Buy page for an entire list (alphabetically arranged, of course) of all the spots where you can get your PNW Cookie Co. fix. 


Q. What's the best way to store my cookies if I don't plan on eating all of them right away?
Since our cookies are preservative and chemical-free, we recommend that you store them in the freezer and thaw them as you plan to eat them. Just pop 'em out of the freezer, place them on the kitchen counter, and your cookie will be thawed to perfection in around 20-40 minutes. 
💡Fun Fact: We tuck a postcard-sized card with some good-to-know information into every order placed on our website. Storage instructions are included! 


Q. What are the different ways I can purchase cookies?
Life is all about variety which is why we offer our cookies in several different ways. 
Single Cookie Pack:

Need a quick cookie fix or just want to try out something new without putting in too much commitment on a flavor you might not love? We get it. Opt for our Single Cookie Pack is




Double Cookie Pack:

Sometimes in life, the correct answer is "one of each." But for any other situation, we like to think that "two of each" is right the rest of the time.




Cookie Monster Box of 6 (Variety Box):

What happens when you get all of our classic cookie flavors together in one box? Most people call it a really good time, but we refer to it as a Cookie Monster Box of 6. This box comes pre-packaged with all six of our essential flavors: Chocolate Chip, Oatmeal Raisin, Snickerdoodle, Molasses, Double Chocolate, and Peanut Butter.
Build Your Own Cookie Box of 6:

We consider this to be THE ultimate way to indulge! With this box option, you can pick and choose six different cookie flavors of your choosing. Want 5 Snickerdoodle Cookies and 1 Molasses Cookie? Maybe you want 3 Peanut Butter Cookies, 1 Oatmeal Raisin Cookie, and 2 Chocolate Chip Cookies? We could go on and on but the point is that if you like to customize your options, this is the way to go.



Choose a Single Cookie Pack, a Cookie Monster Box that holds a variety (one of each flavor), or even Build Your Own Cookie Box and customize it however you like. Any way you go it's a win! Just remember that we offer 6 classic cookie flavors — Chocolate Chip, Double Chocolate, Molasses, Oatmeal & Raisin, Peanut Butter, and Snickerdoodle — with the addition of limited edition cookies on a seasonal basis. 


Q. Where can I view information about your ingredients? 
So you have questions about the ingredients in a particular cookie flavor and want some answers before you purchase? We've got you! We list all of the nutritional information and ingredient information for our products right on the Nutrition & Ingredients page of our website. Check it out!  


Back to You
By now, your most burning questions about cookies have likely been answered. But, if you still have a question or two lingering around in your head, we're here to help. Just send us a message on social on our Instagram and Facebook or get in touch with us here. We always love hearing from you! 


Related Posts