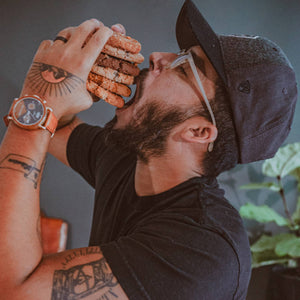 Wholesome, ethically sourced ingredients.
Our cookies are always made with wholesome ingredients that are Vegan and Gluten-Free and Soy-Free. Heck, even our palm shortening is ethically sourced just so you can enjoy an amazing cookie anytime, anywhere with confidence in what you're eating.
Shop now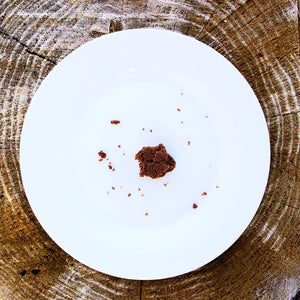 Incredible flavor.
Outstanding texture.
We've cracked the cookie code using healthy, minimal ingredients all without compromising flavor, texture and those little nuances that make a cookie a cookie. They're so delicious that you could share them with your most cynical friends and they'll never know they're Vegan and Gluten-Free and Soy-Free!
Shop now
HUGE cookies... as in "2 servings per cookie" huge.
1 cookie could easily be split between 2 or 3 people! Whether you need an energizing treat, have a sweet-tooth after dinner, or just need a healthy mid-night snack, our cookies are the perfect fit to fuel your next activity.
Shop now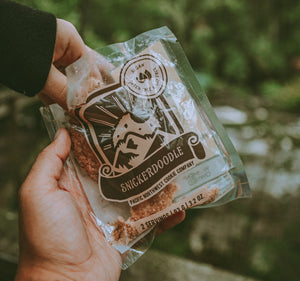 Freshly baked to order and arrives at your door in just a few days.
Because your cookies contain no preservatives and no chemicals, (and because they're Vegan and Gluten-Free and Soy-Free too!), we bake your cookies fresh, chill them and deliver them rapidly to your door within just a few days!
Start Your Cookie Order

Customer Stories
"As a mom with a special needs child it can be very difficult finding foods that he can eat. With over 60 allergies. Even if I can find something new to try, I often hesitate because of the prices and how picky he is. We received a PNW Cookie and well...My son said it best "This is the best cookie I've ever had!!!". PNW Cookie Company your the best and you made my son a Certified Cookie Monster!🍪 Thank you 💗"
-Ansar H.
"Absolutely love PNW Cookie Co. The cookies are second to none and make sticking to any dietary needs while enjoying a sweet treat a none issue! The taste would pass a blind taste test and beats any store bought packaged cookies. I love supporting a business with so much heart!"
- Elizabeth B.
"Every time I think about these cookies, my mouth starts watering. I'm not sure there's anything else in the world that's vegan and gluten-free and tastes this good."
- Dale P.
"These cookies are amazing. Whether you're vegan, gluten free, or neither, these cookies are sure to please. Definitely felt less guilty eating one of these than most other cookies, doesn't give you that bloated groggy feeling that can come with eating heavy sweets. There wasn't a single flavor that disappointed me. Now that I've tried them all I'll probably personalize a box with my favorites!" 
- Jill A.