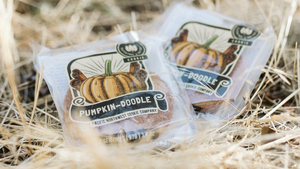 A Look at Our Favorite Fall Cookie: Pumpkin-Doodle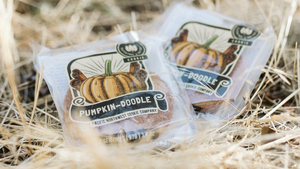 Love it or hate it, every year starting from the end of August through November, pumpkin spice flavors seem to take over the market. Yet, despite all of the buzz, we couldn't find a fall-inspired cookie flavor that both tasted good and met our criteria of being vegan, gluten free, soy free, and dairy free. So, we rolled up our sleeves and got to work, creating a limited edition fall cookie that's both seasonally gratifying and oh-so-delicious... The Pumpkin-Doodle! 
Read on to learn how this seasonal fall cookie came to be and the inspiration and ingredients that make it one-of-a-kind and loved by many. 
Our First Seasonal Fall Cookie
When we launched our very first seasonal flavor — the now fan-favorite Peppermint Hot Chocolate Cookie — we knew that we couldn't stop there. And honestly, our biggest supporters (YOU! Our customers!) wouldn't have let us even if we tried. We received countless messages and requests to continue expanding our line of seasonal and limited edition flavors which really motivated us to stick with it, even despite a longer than usual recipe creation process (details below!)
We've always enjoyed all that the autumn season has to offer, and making a seasonal fall cookie flavor just felt right! "I love the changing of the leaves, it reminds me of life's promise of change in exchange for the beauty of growth," said PNW Cookie Co.'s Founder, Callie Carpenter. "The Pacific Northwest is the perfect place to experience fall!" 
📬 Don't Miss Out! Sign up for our newsletter so we can let you know about all of our new flavors and the return of our seasonal cookies! Sign Me Up → 
The Inspiration Behind the Flavor
We launched our first Pumpkin-Doodle Cookies in October of 2021 after making an unexpected new friend, Ruby the pig! 🐷
In June of 2021, we partnered with Heartwood Haven Farm Sanctuary Haven, a local 501(c)(3) nonprofit organization, to help raise awareness of their mission of rescuing animals in the Pacific Northwest. This collaboration also helped raise funds for Ruby, their special needs Kunekune pig who could barely walk when she first arrived at their sanctuary. 
As reported by Heartwood Haven, "Ruby was sat on as a young piglet and never received veterinary care for her injuries. She had a difficult and painful time walking." But through her own determination and the kind staff, Ruby was able to beat the odds and make a great comeback.  "Ruby has been working hard to walk again and getting really good at it… She loves swimming [and is] often seen swimming in the duck ponds on a hot day." 
We created a limited edition "Ruby the Kunekune Pig" Cookie Box and "Ruby the Pig" sticker that was delicious and adorable all at the same time. For every cookie box that was purchased, PNW Cookie Co. donated $5 to Ruby's lifelong care at Heartwood Haven. The campaign was a hit and we became fast friends with Ruby and the Heartwood Haven team. 
"What inspired me to make this flavor is actually Ruby the pig!" said Callie. "Ruby loves pumpkin! I didn't want to make something that was an expected pumpkin flavor, and the Pumpkin-Doodle was created!" 
Working on the Recipe
Creating the recipe for our Pumpkin-Doodle Cookie was a true labor of love surrounded by a buzz of excitement. We knew we wanted to start with our classic Snickerdoodle Cookie as the base of the cookie because it already supplied the cinnamon sugar qualities we wanted to include. But trying to capture authentic fall flavors — we're talking pumpkin pie and pumpkin spice lattes! — while staying true to our mission of making products that are vegan, gluten free, soy free, and dairy free was quite the challenge. 
Because we used real pumpkin as our leavening agent, getting the cookie dough mixture just right took a while. All in all, creating the recipe took about three months to nail down and perfect. When it was all said and done, we realized that it took over 30 different variations of the recipe until we came up with a final product that met our standards! 
The Special Ingredients
You may be wondering what ingredients make this cookie so dang delicious. The answer is simple: pure pumpkin and a new-to-us component called pumpkin powder.
Pumpkin powder can be used as a healthier alternative to wheat flour in cooking or baking. It can also serve as a natural food coloring or sweetener in drinks and other dishes. This ingredient really helped us achieve that powerful pumpkin flavor we were looking for and balanced out the contrast of the sweet and spicy cinnamon and sugar coating.
"The cookies were amazing. Moist, tasty, diet conscious, non-discriminating for those with allergies, and an overall hit with ALL the family!" - Sally H.
Back to You
Made with real pumpkin and cinnamon, the Pumpkin-Doodle Cookie pairs perfectly with crisp autumn evenings, crunchy leaves, and your favorite plaid shirt. And if you ask us, it's also better when shared with friends and family. 😉
They have the perfect cookie texture (trust us, you won't believe they're vegan, gluten free, soy free, and dairy free! 🙌) and boast that mouth-watering pumpkin spice flavor that so many of us crave during the fall season. They're decadent, chewy, soft, and absolutely perfect for this time of year! But here's the catch: this flavor is only hanging around during the fall season, so be sure to order a Single Pack, Double Pack, or Box of 6 today while supplies last.


Related Posts