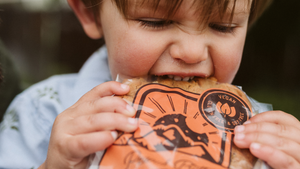 5 Ways to Enjoy Cookies This Summer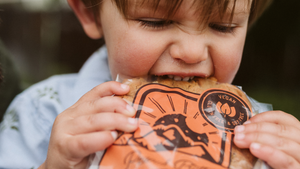 Cookies are a versatile treat that can be enjoyed a variety of ways — as a post-meal dessert, a random pick-me-up in the middle of your day, as a midnight snack, the list goes on. But what's better on a hot day than a bite of something sweet and loaded with flavor? Even when it's scorching hot out, celebrate long days and warm nights with these 5 must-try (and delicious!) summertime cookie ideas. 
#1 Cookie Ice Cream Sandwich
Nothing beats cold, creamy ice cream and soft, scrumptious cookies. So when you combine the two together and create a cookie ice cream sandwich, you're most certainly in for a treat.
The secret to a delicious homemade cookie ice cream sandwich? Using the best cookies around, of course! Whether you're vegan or avoiding things like soy, gluten, or dairy, nothing beats a cookie from PNW Cookie Co. And when you sandwich two of our cookies together with ice cream, you're most certainly in for a treat!
💡Pro Tip: When making your ice cream sandwiches, we recommend freezing the cookies first before you add the ice cream. Freezing the cookies makes them sturdier and more stiff so they won't become a crumbly mess when you press the cookies on the ice cream.
#2 Frozen Cookies
Few things are as delicious as a fresh-from-the-oven warm cookie, but we suggest trying them frozen. 

Because all of our products are vegan, gluten free, soy free, and made without any preservatives or chemicals, we actually recommend that you store them in your freezer and then pop them onto a plate on your kitchen counter when you're ready to enjoy them. Trust us… Frozen cookies are a game changer (especially on a warm summer day). They just might become a staple in your freezer!
#3 Crumbled as an Ice Cream Topping
From crunchy and soft to sweet and savory, our cookies are full of layers, textures, and flavors. This makes them a must-try topping to add to your next bowl of ice cream or soft serve. 
Just grab a cookie of your choice, crumble it up, sprinkle on your frozen dessert of choice, and voila! Your regular old bowl of ice cream just got so much better. When you bite into this loveliness, for just a moment, you might just not have a care in the world because. It's just that simple and good! 
#4 Cookies and Cream Dip
Take your cookie experience to the next level with an easy but oh-so-tasty cream cheese dessert dip. We like the Fluffy Cream Cheese Dessert Dip from I Scream for Buttercream but our vegan and dairy free friends will likely enjoy this Cashew Cream Dip recipe from Nora Cooks. 
Serve this dip with a variety of your favorite cookies — our Molasses Cookie is a must-try with this recipe! 🙌 — and an assortment of fresh fruit to balance everything out. Either way, with just four simple ingredients, this sweet and creamy dip comes together quickly and makes for a fun dessert. And take it from us… This is one that's better when shared with good friends! 
#5 Chocolate Chip S'Mores
If you're obsessed with chocolate chip cookies like we are and love a freshly toasted s'more, this one is for you! Everyone's gotta try this one. 

Grab your marshmallows, chocolate bar of choice, and stack of our Chocolate Chip Cookies (you can grab a box of 6 here). Toast your marshmallows over a fire pit or over your stove burner, rotating occasionally until golden brown. If you're roasting your marshmallows over a stove burner, be extra careful to ensure the marshmallow doesn't touch the burner or you'll be dealing with a sticky, stubborn mess. 
After your marshmallows have been toasted to your liking, place two marshmallows over a chocolate chip cookie, top with two pieces of your chocolate bar, sandwich with another chocolate chip cookie, and serve immediately. 
Back to You
We hope this post inspired you to think differently about rising temperatures and oven-baked desserts this summer! Now that you've seen our list of ways to enjoy cookies this summer, we're curious… Which cookie idea will you be celebrating the season with first?
Related Posts