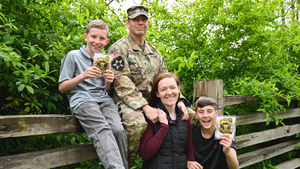 PNW Cookie Co. is a Proud Military Spouse Owned Business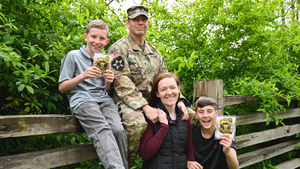 We're all aware of the tremendous sacrifices members of our military make to defend our country, but many are not aware of the incredible sacrifices that military spouses make as well. 
Did you know that PNW Cookie Co. is a certified Military Spouse Owned Enterprise? We achieved this certification through the Military Spouse Chamber of Commerce in April of 2021 and couldn't be more proud to add this opportunity to our list of achievements and accolades. 
But… What exactly does this certification mean and how does it impact what we do or the cookies you eat? Read on to learn more! 
First, a Little Back Story 
Callie, our Founder, is a proud military wife. Her husband of three years, Sam, has been serving in the United States Army for 18 years and has had multiple deployments to Iraq and Afghanistan. Sam joined the U.S. Army Infantry Branch but after losing half of one of his lungs, was reclassed to a support position. He's currently stationed in Texas' Fort Bliss as a Master Gunner while Callie holds down the fort (and runs PNW Cookie Co.!) in Chehalis, Washington with their two sons, Levi and Coltin. 
When she first met Sam, Callie had no idea what military spouses actually went through. 
"Two years ago, we found out that he had orders to be restationed from Joint Base Lewis-McChord here in Washington to Fort Bliss in Texas," said Callie, "We decided that Sam would go to Texas and I would stay in Washington in order to help raise our two boys (my step sons) and grow my business."
For those who may be new to our website, PNW Cookie Co. is a business rooted in close family ties. In fact, it was Callie's brother, Nate, who inspired the company's ideation when he became intolerant to gluten and dairy and could no longer enjoy the family's coveted chocolate chip cookie recipe. Callie and her mom, Susy, spent the next three months experimenting in the kitchen to create the perfect vegan, gluten-free cookie recipe. It was a hit! And while PNW Cookie Co. has grown and expanded since then, Callie could never imagine how much she'd lean on the support and love of her family after Sam's relocation to Texas.
Supporting a family while your spouse is in the military isn't easy.
"This is not just my story, this is the story of most military spouses. A lot of spouses move with their soldier every four years which makes it incredibly hard to start a business much less grow it with this constant moving," said Callie. "I want to help bring awareness and encourage support to all military spouse owned businesses. We spouses serve our country by taking care of the home front so our soldiers can protect our country."  
🎬 Video: Get to know the family behind the cookie! Watch the PNW Cookie Co Brand Documentary »
About the Military Spouse-Owned Enterprise Certification
Organized by the Military Spouse Chamber of Commerce (MSCC), the Military Spouse-Owned Enterprise Certification (MSEC) is focused exclusively on giving military spouse-owned businesses a seat at the table. They've made it their goal to ensure that all active duty and veteran military spouse business owners have the resources and tools they need to strengthen their families, communities, and our economy. 
Jaime Chapman is the Chief Operating Office and Co-Founder of the U.S. Military Spouse Chamber of Commerce. In a recent blog post, she shared that over 50% of military spouses turn to self employment during their careers. After noticing a large gap in resources for military spouse businesses, the Military Spouse Chamber of Commerce was created to connect them with with companies and individuals who want to hire and support military spouse-owned business. 
☝️ Good to Know: A "military spouse" is defined as a current or former partner of a member of the U.S. Armed Forces, including Veterans, Guard, Reserves, Active Duty Service Members and Gold Star Spouses.
Why the Certification Matters
Being financially stable is a key pillar of the American dream, yet many military spouses fall behind in the race to get a piece of the pie. "Despite having higher levels of education than the majority of the population, military spouses earn on average 25% less than their civilian counterparts," added Chapman. 
Entrepreneurship is a real solution to the military spouse unemployment crisis. 
When marrying into the military family, many spouses find themselves taking on new roles, adapting to changing schedules, learning different ways of doing things, and developing creative ways to compromise. Often times, their dreams and goals get pushed to the wayside as they work to hold down the fort at home. "Let's not forget that spouses fall behind because of the military lifestyle, and for supporting the service members who defend our freedom," added Chapman. 
☝️ Fun Fact: The Military Spouse Chamber of Commerce does not affiliate with any political party or entity and is inclusive to all genders. 
Because military families frequently have to relocate — often to rural or remote areas — in support of their spouse in the service, it can be difficult for spouses at home to maintain a steady job or pursue a longterm career. Compared to a traditional 9-5 job, self employment and entrepreneurship offers military spouses flexibility in their schedules and freedom from being tied to a specific location or area. By bypassing traditional employment, spouses no longer have to quit their jobs every few years because of relocation and are given the freedom to dictate their own pay and career path. 
The Military Spouse Chamber of Commerce's Military Spouse Owned Enterprise certification is considered by many to be a stepping stone for military spouses to pursue their dreams and feel a sense of pride in their entrepreneurship. 
Back to You
Many people want to give back to those who serve, yet they don't always know how to go about doing that. One easy way to help is by supporting a certified Military Spouse Owned Enterprise. When we come together and choose to spend our money on services and goods that support military spouses, we can do a tremendous amount of good. 
🎬 Check Us Out on QVC: QVC has even featured PNW Cookie Co. as a military spouse-owned business! 
By choosing to support PNW Cookie Co., you're not only supporting a small, Women Owned Business but also a military spouse's dream. Our entire family thanks you for your support and we hope that this article inspires you to support other military spouse-owned organizations in your local community, too! 


Related Posts