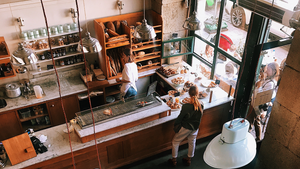 4 Ways PNW Cookie Co. Fits Into Your Shop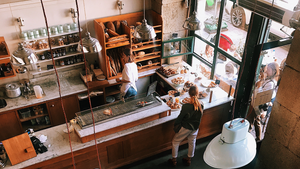 Did you know that aside from our website, you can find our cookies and other baked good products in over 70+ locations? Whether you're interested in carrying our cookies in your storefront or are looking for a way to convince your favorite coffee shop to carry our products, we're covering the top 4 reasons why PNW Cookie Co. fits in any storefront.
#1 Our Cookies Pair Well with Others
Our cookies are a complimentary item in any refrigerator, meaning that they pair well with so many other items you may be offering like coffee, smoothies, sandwiches, frozen yogurt, and ice cream (just to name a few). 
Coffee shops and cafes might be the most popular locations where you'll find our cookies, but there are even grocery stores, produce stands, and restaurants that are making sure they've got a well-stocked supply of our cookies and banana bread on hand for their customers. Even Microsoft Markets carry our products, offering cookies to their employees at the Microsoft Corporate Headquarters in Redmond, Washington. 
Really though, just try and come up with a better combination than a hot cup of coffee and your favorite cookie! We'll wait… 
#2 Our Cookies Appeal to the Masses
For people who are allergic or sensitive to gluten, dairy, and soy, avoiding these ingredients and the foods that contain them while still being able to enjoy sweet treats (that don't taste like cardboard) can be hard. As awareness of these food intolerances has increased over time, store owners have started to accommodate their customers with this intolerance by adopting healthy (and tasty!) alternatives. 
Here are just a few statistics about the rise of dietary restrictions and food allergies:
Word about our cookies has spread fast because there simply isn't a vegan, gluten-free, and soy free cookie on the planet like ours. In fact, PNW Cookie Co. cookies are the ONLY cookies on the market that are both vegan, gluten-free, and taste just like a regular cookie! From winning competitive accolades and being featured on QVC to blowing up in popular retail locations, our cookies have made a name for themselves in a hurry (and have made a lot of people with dietary restrictions happy along the way!) 
If you're looking to serve a growing community of individuals with dietary restrictions — AND support a local, Women-Owned, and Military Spouse Owned business all at the same time — you're in good hands with us. 
#3 Fresher Cookies are Better
Consumers are constantly searching for healthier, on-the-go snacks that align with their lifestyle and diet values. We're proud to share that all of our products are vegan, gluten free, soy free, and made without using ANY preservatives or chemicals. Because of this, we recommend storing them in the freezer and placing them in your refrigerated display as you wish to offer them to your customers.
PNW Cookie Co.'s touted certifications, clean and wholesome ingredient labels, and lack of preservatives or artificial ingredients answer consumers' needs for fresh treats like never before. We've learned that many of our vegan customers enjoy the fact that the palm shortening we use is ethically and sustainably sourced, keeping the rain forests and animals protected. And unlike cookies that contain dairy and eggs — which have a much shorter life due to potential spoiling — our cookies can last in your freezer for months on end (if you can keep them around that long). Or, keep them thawed and chilled in your refrigerated display for 1-2 weeks. 
💡Fun Fact: We strive to use the cleanest ingredients possible and have opted to use organic evaporated cane juice rather than processed white sugar. Organic evaporated cane juice is less processed and much cleaner than conventional sugar. Learn more here. 
Echoing the reviews we've received from customers, it's hard to find a better cookie out there that's vegan, gluten free, soy free, and tastes as good as PNW Cookie Co. products! 
"Let's be clear. I don't eat gluten-free and I'm certainly not vegan, but these cookies are incredible. I would buy these just because they are that good! Can't imagine the breath of fresh air the GF and Vegan community is feeling with this product." - Greg S.
#4 Our Products Don't Take Up Much Room 
We understand that freezer and fridge space is valuable and being able to maximize that space with items that sell fast and take up little space is a priority. A single box of six cookies (with each cookie offering two servings) arrives in a box that's only 4.5" wide, 4.5" deep, and 5" tall. The colorfully branded PNW Cookie Co. box will keep your cookies conveniently organized during storage and well within reach when on display.  
If you have a commercial freezer, the boxes stack and store easily. Or, if you're working with an upright freezer like many of our wholesale partners, our cookies can easily be stacked next to each other in the shelf storage. 
Not only that, but the colorfully branded PNW Cookie Co. box can keep your cookies conveniently organized and well within reach. 
Back to You
If you're a firm believer that good-for-you products should actually taste good — and that nobody should have to choose between taste and health — then look no further than PNW Cookie Co. Interested in becoming a Wholesale Partner? Fill out an online application today!
Related Posts