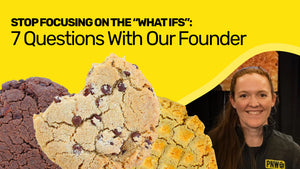 Stop Focusing on the What Ifs: 7 Questions with Our Founder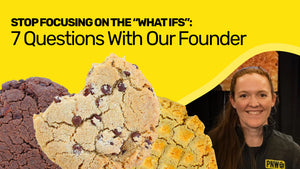 As a small business owner who got into baking early, our Founder, Callie Carpenter, has a knack for making some pretty darn good cookies. And while many of you know and love the vegan, gluten-free, soy-free cookies we're whipping up in the kitchen today, we wanted to give you a glimpse into the team of real people behind our PNW inspired brand.
In between the shuffle of phone calls and emails, delivering cookie orders, and coordinating our next wholesale location, we sat down with Callie to get a glimpse into what inspires and motivates her and the advice that's helped get her to where she's at today. 


Get to Know Our Founder: 7 Questions with Callie Carpenter
How did you get started with PNW Cookie Co.?
Since I was old enough to hold a wooden spoon, my Mom had me in the kitchen learning how to bake and cook. I was reluctant at first because I would have rather been outside with my brothers, but my Mom encouraged me to learn. Baking became one of my first passions. On my days off from baking cookies here at PNW Cookie Co., you'll still find me in my kitchen baking something!
What has your own health story been like?
I had been overweight my whole childhood and when I got into my early 20's, I didn't know why but I felt tired and groggy all the time. I started working with a personal trainer and nutritionist and as I started down this journey of health and wellness, I realized that when I didn't eat gluten, I felt energized and motivated again. I'm not allergic or have celiac, but I couldn't believe the difference in how I felt when I didn't eat gluten.  
What's been the biggest challenge turned lesson you've learned along the way of starting PNW Cookie Co.?
To not focus on the "what ifs". It's so easy to fall into a trap of imagining what could happen and then quickly spiraling into worst-case scenarios. A very wise man once told me, "You can focus on real problems or imaginary ones." Definitely a lesson I will never forget! 
What's one must-do self-care practice you like to carve out time for in your schedule that helps you stay balanced between work and life?
The first thing in the morning is I wake up and inspire my soul. It looks a little bit different every day but I will listen to a devotion and read self-development books. Right now, I'm reading "The ONE Thing" by Gary Keller and "How to Win Friends and Influence People" by Dale Carnegie.
What does a typical day at work look like for you?
Every day looks a little different! Some days it will be a large bake day where we'll bake and package 3,000+ cookies. Other days, I'll be out delivering orders, processing orders to be delivered, meeting new customers, or offering samples to our wonderful customers.
What's your favorite "task" to tackle at work? 
My favorite thing to do at work is talk about cookies! I love meeting new customers, hearing about their needs, and seeing if I can help solve them. It's so interesting to me to hear other people's stories. I learn so much and enjoy building relationships. 
What's your favorite cookie flavor at PNW Cookie Co.?
Out of all of the flavors we have, Oatmeal Raisin is definitely my favorite cookie! I don't understand why but to me when I take a bite and close my eyes, it reminds of vanilla bean ice cream. I know it's a little odd but hey, it makes me happy! 😊
Back to You
From winning competitive accolades (more on that here!) to making our grand entrance in popular retail locations across the Pacific Northwest, our cookies have made a name for themselves in a hurry. But no matter how big we might get, we'll always choose natural, locally sourced ingredients whenever possible and steer clear from the mass-produced, cheaper alternatives that are out there. It's what you — our customers! — deserve. We're committed to quality in everything that we do and in everything that we make because you really should have nothing less.
Stay tuned for more interviews, sneak peeks, and honorable mentions from the rest of the team here at PNW Cookie Co. And be sure to follow us on Instagram and Facebook to stay up to date with the latest and greatest! 
Related Posts