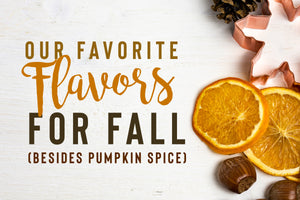 Our Favorite Flavors for Fall (Besides Pumpkin Spice)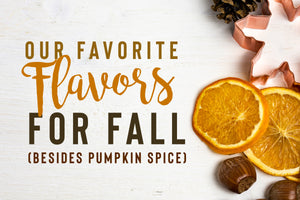 When you think of fall, what flavors come to mind? If your answer is pumpkin spice lattes, then it's probably time for you to refresh your palette and get inspired by some of the many other fall flavors this season has to offer! Today, we're sharing 6 of our all-time favorite flavors to help you embrace the season with open arms. 
Pumpkin
We know, we know… So original for fall, right? But pumpkins are SO much more than just a Halloween decoration. Fresh pumpkin is nutrient-dense, high in fiber, rich in vitamins and minerals, and low in calories. Just be sure to read your labels: stick to fresh or canned pumpkin and don't get stuck with canned pumpkin pie mix (although there could be worse situations to be in…) If you're looking for something warm and cozy after a long day, this creamy pumpkin risotto recipe is a great option. 
And let's not forget about those pumpkin seeds either (it's half the fun of carving pumpkins, right?!) After carving your Halloween jack-o-lantern, roast perfect pumpkin seeds using this recipe we found online. For the spice fanatic in all of us, opt for this version. 
Molasses
There are countless ways to cook with this dark, sticky, complex syrup (baked beans and sweet potato pie anyone?) but we think molasses works best in our fan-favorite Molasses Cookie.
They're ultra-soft and chewy, savory and sweet, and pair perfectly with the warm spices and cozy molasses. But don't just take our word for it! Order a single pack or create your own custom Cookie Box of 6 today and it just might become your new favorite cookie flavor. 
Chai
Chai might be one of the only flavors that hot drink and cold drink lovers can both agree on. We love it because it combines all of the classic aromatic spices of fall like cinnamon, clove, nutmeg, and ginger all together into one. It's a great way to add body and flavor to beverages! Using a dairy-free alternative like soy milk, almond milk, oat milk, or coconut milk can make chai a vegan-friendly treat, too! 
Fun fact: chai translates to "tea", so saying "chai tea" is incorrect since that's like saying "tea tea".
Use it to add a punch of flavor to your cereal, enjoy it while sipping on a classic chai latte, or spice up your morning oatmeal, just be sure to keep your mind open when it comes to all of the different ways this spice can be enjoyed. 
Butternut Squash
We love butternut squash for a variety of different reasons (hello, vitamins and fiber!) but really appreciate its versatility. Think of your favorite dish and butternut squash can either be integrated into it or used as a healthy side dish.
While it may seem like a complicated and time-consuming ingredient to cook with at first glance, most recipes we found, like this simple roasted butternut squash recipe, make your oven do all of the work for you. For the more experienced chef, give this decadent roasted butternut squash risotto recipe a try.
Roast it, turn it into a soup, add it to your next DIY pizza, or slip it into your next lasagna recipe, just be sure to get your dose of it this fall season. 
Cinnamon
Cinnamon is a great year-round flavor but it seems to stand out the most when temps start to cool down and leaves begin to crisp up. We love adding a dash of it to sliced green apples, simple breakfast toast, and even our morning coffee. This spice also offers a variety of health benefits, like reducing bad cholesterol, and can even help regulate your blood sugar. 
While cinnamon is a sweet addition to a variety of recipes, we like it most in our Snickerdoodle Cookie. Do it for your health! 😉
Salted Caramel
Caramel, on its own, is already a popular fall flavor, and adding a touch of sea salt to the mix only makes it better. Making your own salted caramel sauce is easy and beats anything you'll find in the store. Plus, you'd be surprised to know that you probably have all of the ingredients needed to make it already in your own kitchen!
During the fall, it's a great treat to dip fresh apple slices into. Or, add that extra touch to sweetbreads by drizzling some of the syrup right over the top. We particularly enjoyed this Vegan Coconut Salted Caramel recipe. 
Back to You
We've shared six of our own, but what other fall flavors do you think we forgot to mention? 🤔
Intrigued by the recipes we shared above? Head over to our Pinterest and follow our Favorite Flavors for Fall board to get them all in one place (plus a few extras we found!) 
Related Posts