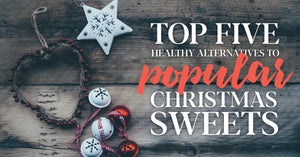 Top 5 Healthy Alternatives to Popular Christmas Sweets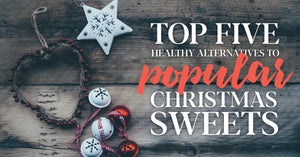 The holidays are here and it should come as no surprise that no matter where you go, you can almost always find yourself within arms reach of something sweet. From boxes of chocolates and candy canes to sugar cookies and half-eaten gingerbread men, the treats start rolling in starting in October and don't stop until January (once we all sign up for our gym memberships, right?! 😉)
During the six weeks between Thanksgiving and New Year's Day, it's been reported that people gain an average of 1-3 pounds. While not hugely significant in the grand scheme of things, that's enough additional weight to make your clothes fit a little snugger. Extra pounds add up over time and can eventually lead to health issues like:
High cholesterol

High blood pressure

Increase in blood sugar

Increase in insulin levels  
While the holidays are a time to indulge, you don't have to go the "all or nothing" route when it comes to deciding what you (and your family!) will snack on. In today's post, we're highlighting 5 alternatives to overindulgent holiday sweets that are tasty and healthy without compromising on any of the holiday feels. 
5 Healthy Alternatives to Popular Christmas Sweets
#1 Real Fruit Candy Canes
Fresh fruit is one sweet treat that most of us have zero problems with our family eating to their heart's desire, right? Made with just bananas and strawberries, these real fruit candy canes from Healthy Little Foodies are a super easy and practical way to get kids excited about eating healthy treats during Christmas. Because let's be real: if it's in a shape, kids will almost always eat it! 

This is a simple dessert or snack that the kids can help make and would also create great holiday memories as a special treat to wake up to on Christmas morning or an after-dinner snack to enjoy on Christmas Eve.
Here's a tip: if Celiac Disease affects someone in your home, fruit candy canes would make a great treat to leave out for Santa instead of cookies. 
#2 Grinch Kabobs
Kabobs of any kind make for a great appetizer, side dish, or snack and we loved this holiday-inspired take on them. Kids will love snacking on these healthy kabobs the next time they're watching How the Grinch Stole Christmas but these would almost add a sense of holiday charm (and a little humor) to your next holiday party. They're quick and easy to make and also travel well if you're bringing a side dish somewhere.
Amee from Amee's Savory Dish makes her kabobs with marshmallows, green grapes, strawberries, and kabob sticks but you could also supplement fresh banana for the trim of the grinch's hat if you wanted to cut down on the sugar.
#3 Fruit Christmas Tree
This 100% edible and refined sugar-free Christmas tree is made entirely out of fruit and is guaranteed to drop a few jaws. Plus, it's actually really easy to make. We like Kristin's recipe over at Iowa Girl Eats. 
There's no styrofoam mount underneath all that fruit — the base is actually a pineapple with a pear placed on top to help give it that classic Christmas tree shape. Clever, yes. Equally delicious and easy to snack on? Absolutely. 
The pieces of fruit are secured to the "tree" by toothpicks and can easily be popped off as a snack. We especially liked this idea because the fruit can be totally customized to your preferences. Want a little more orange and fewer grapes? Make it that way! Or, turn up the holiday vibes by using only strawberries to create an all red tree and then add mini marshmallows sprinkled throughout as ornaments. Just be sure to top off your fruit Christmas tree with a big, bright yellow pineapple star. 
#4 Strawberry Santas
These adorable Santas are made with strawberries, frosting, and gel icing and are just as tasty as they are cute. Plus, the recipe is easy to put together as the main component is assembling the Santas which could be a great job for your little helpers.
Kelly Dixon from Smart School House's recipe calls for using vanilla frosting to make these strawberry Santas which is already a healthier alternative to many of the holiday-themed candies and sweets out there. But if you're looking for an alternative with less sugar and more protein, we love this white chocolate buttercream frosting from Sunkissed Kitchen.
#5 Chocolate-Dipped Oranges
These might not have a direct association with Santa, Christmas trees, or snowmen, but these chocolate-dipped oranges will not disappoint. And if you're a fan of the orange-flavored chocolate balls that make a presence during the holidays, this is a much healthier and wallet-friendly version you can make in your own kitchen. 
We found this recipe over at My Fussy Eater and loved the simplicity of it. Satsumas dipped in dark chocolate and sprinkled with shredded coconut are a great snack to make in bulk and keep stored in the fridge as an after school (or after work) snack. A healthy, low sugar snack perfect for the festive season… What more could you ask for?
For even more recipes and inspiration, browse the ideas we've curated on our associated Pinterest Board. We've got a variety of healthy, low sugar, gluten-free, and even vegan holiday candy alternatives that are guaranteed to be big hits in your home this year. 
And Now, a Christmas Treat for
You!
Whether you're trying to reverse holiday weight gain or just get your kids to eat a little less sugar, we hope this blog post reminded you that it is possible to embrace all the Christmas flavors without missing out on all the wonders that this season has to offer. Our team here at PNW Cookie Co. doesn't think you should ever have to compromise healthy ingredients for quality or flavor and we think we've proved our point well with our limited edition Peppermint Hot Chocolate Cookies. They are flying out of here faster than we can keep up and so far, people are loving this new flavor.
Here's what a few of you have had to say about our Peppermint Hot Chocolate Cookie: 
"I love that I can enjoy the delicious flavors and not feel sugar sick later like other cookies! I just tried the Peppermint Hot Chocolate seasonal cookie and it did not disappoint!" - Elizabeth B.
"This is literally the best cookie I've ever had! If I didn't know it was vegan beforehand, I'd never had guessed it!!!!" - Kristi K.
"First off, I love your cookies! Gluten-free and soy-free are now part of my lifestyle and these cookies are amazing! Second, the peppermint hot chocolate is a perfect mixture! The chocolate and peppermint are not overpowering, but balance each other out." - Rochelle R.
Ready to get in on the action and see what the buzz is all about with our cookies? You're in luck! Whether you're looking for a sweet treat for yourself, last-minute stocking stuffers for the family, or just need an excuse to experience our Peppermint Hot Chocolate Cookie, there's no better time to place an order.
Merry Christmas and Happy Holidays from everyone here at PNW Cookie Company!
Related Posts