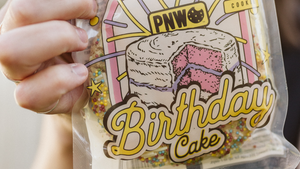 Indulge in the Irresistible Delight of the Birthday Cake Cookie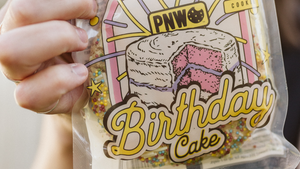 Birthdays are a time for celebration, happiness, and, of course… Cake! And as PNW Cookie proudly celebrates its 5th year as a small business, we wanted to commemorate this milestone with a special treat that embodies the spirit of celebration and gratitude. Our limited-edition Birthday Cake Cookie will delight your taste buds and have you singing, "Happy Birthday to me!"
Celebrating Sweet Success as a Small Business
As we celebrate our 5th year in business, we reflect on the journey that has brought us here. PNW Cookie started as a small, passionate endeavor, driven by a love for baking and a desire to create exceptional treats that even our brother could enjoy (more on that here). Over the years, we've grown not only in size but also in our connection with our community. We owe our success to our loyal customers who've supported us every step of the way. The Birthday Cake Cookie is our way of expressing gratitude for their unwavering support and celebrating this milestone together.
This cookie holds a special place in our hearts as we celebrate five years of sweet success. It embodies the joy, passion, and dedication that has fueled our journey. We wanted to create something truly extraordinary, something that captures the essence of celebration and marks this momentous occasion. The Birthday Cake Cookie is a symbol of our commitment to excellence, creating cookies that the whole family can enjoy (regardless of their dietary restrictions), and the love we put into everything we bake.
But let's get back to the most important part – how it tastes. 
Why You Need to Try the Birthday Cake Cookie
By now, you know that the team at PNW Cookie Co. believes that a sweet treat should not only be delicious but also safe for the whole family to indulge in. That's why we've crafted a cookie that not only captures the essence of a classic birthday cake but also caters to a wide range of dietary preferences. Yup, that means that the Birthday Cake Cookie is gluten-free, soy-free, dairy-free, and vegan, allowing everyone to join in the celebration and enjoy a delectable treat without worry.
When you take a bite of our Birthday Cake Cookie, you'll experience the soft, chewy texture of a sugar cookie, perfectly balanced with a burst of vibrant rainbow sprinkles. Each mouthful is like a party in your mouth, a party of flavors that will transport you back to your happiest birthday memories. The generous size of the cookie provides two servings, making it a gift you can savor on your special day all by yourself or share with a loved one.
The creation of the Birthday Cake Cookie is a testament to our commitment to quality. We meticulously select premium ingredients to ensure that each bite is a moment of pure delight. Because we believe that everyone, regardless of dietary restrictions or preferences, should be able to enjoy homemade baked goods that taste amazing, we make all of our cookies gluten-free, soy-free, dairy-free, and vegan, without compromising on taste or texture. We want everyone to be able to experience the joy of our Birthday Cake Cookie!
Back to You
Our Birthday Cake Cookie is a celebration in itself. It combines the nostalgia of a birthday cake with the convenience and indulgence of a cookie, creating an unforgettable treat that's guaranteed to bring a smile to your face. Gluten-free, soy-free, dairy-free, and vegan, it caters to a wide range of dietary preferences, ensuring that everyone can join in the birthday festivities. We take great pride in crafting high-quality treats that make every day feel like a celebration.
So, go ahead and treat yourself to the limited edition Birthday Cake Cookie! And remember: it's not just a cookie; it's a celebration in every bite.🎈
Related Posts